Several weeks before the girl and I left for Korea, there was one place I knew I wanted to visit.
I had seen the documentary long before and was captivated. So I sent an email and waited. Surely, they would be too busy for a visit from a mother and daughter from Kentucky. Within a few hours I received a reply. Let us know when you get to Korea, they told us. We will schedule a visit.
Today? Today, was that visit. We traveled by subway, then train and finally a short walk up and then down a steep hill. Without any fanfare at all, we came upon the building and might not have noticed it, except that we stopped to catch our breath. It was on a quiet side street, humble looking, barely revealing the mountain shaking work going on behind its front door.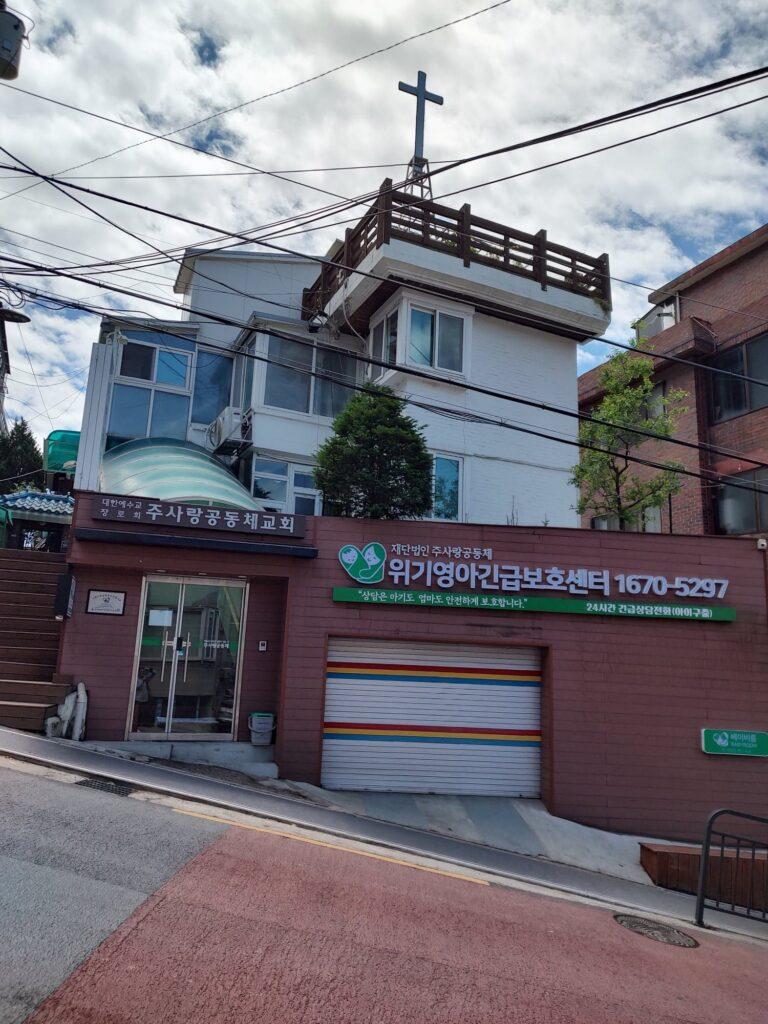 In 2009, Pastor Lee Jong-rak and his wife began a ministry for women who found themselves unable to care for their babies and at the end of finding a place to turn. There is a door that swings open, just up the steps to the left in this photograph. Over it is a sign that asks the woman to stop, just for a moment, and think about her choice, to make sure it is what she wants to do. If the answer is yes, she lifts the door and places her baby onto a soft, heated pad, closes it and presses a doorbell. Within five seconds, on the other side of that door, her baby is lovingly scooped up and the process of caring for it begins. The mothers are not forgotten either. A special room, lovely and peaceful, soft lights and inviting chairs, waits on the other side of the building. Some of the women have just given birth and a clean shower is stocked with soaps and shampoos. It is here that healing can begin. It is here they receive counsel, compassion and a safe place for their hearts to hear about a Lover of their soul that surpasses any fear, any chaos, any condemnation.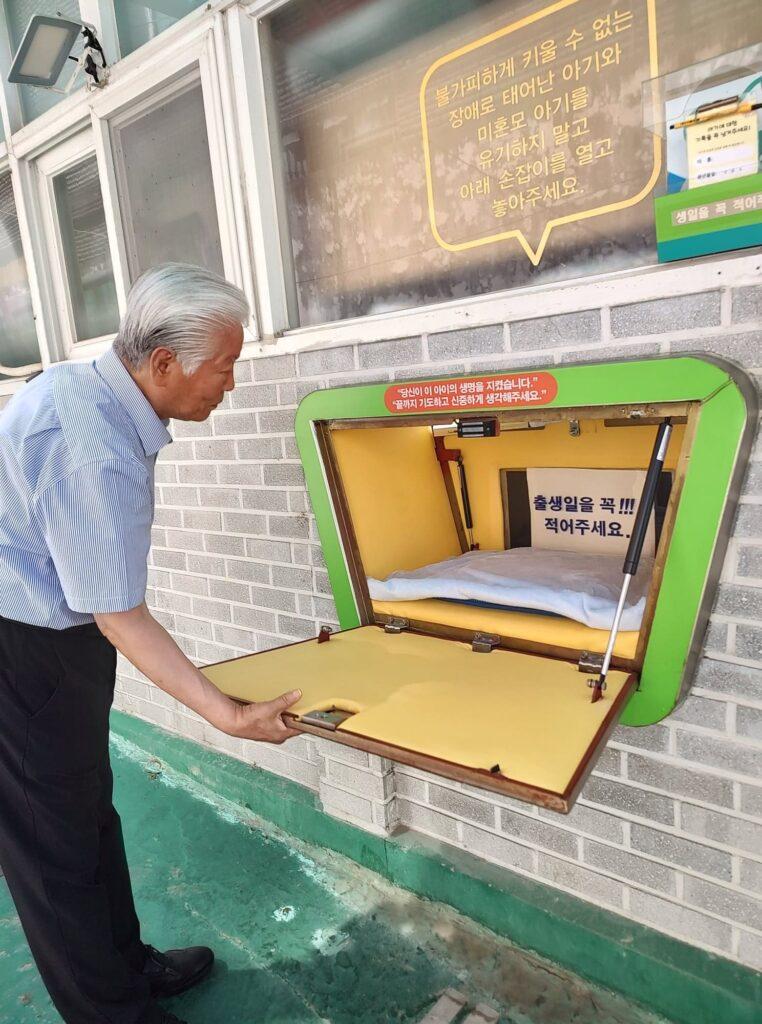 We were first greeted by Jimmie, an assistant to Pastor Lee and an interpreter for all of us. We climbed the steps and took off our shoes, a custom of Korea I am only just now getting accustomed to. As with all of Korea that we have encountered, everything was lovely, impeccably clean, organized.
Pastor Lee is waiting for you, said Jimmie, and he led us into a room with couches and chairs. Pastor walked in quietly, smiling softly, his kind eyes peering out at us. We bowed and offered our hands and it occurred to me how many babies those hands had received. I have never felt the presence of such noble greatness, such tender humility. I wanted to cry. I'm crying now as I write this.
I told him that going to Korea had taught me what it felt like to be vulnerable, dependent on others to teach me to ride a subway, to order in a restaurant, to make my way through the day where I was overruled by a lack of the "how to's" in a strange new world. I imagined, I said, that these young women that come to the Babybox might feel the same way. You get it, he replied, through our interpreter. His favorite verse is John 3:16 because "all" includes the forgotten, the hopeless, the helpless. Every one of us.
Pastor Lee knows himself what it feels like; that crushing hopelessness. His son was born severely disabled. He was in a special hospital for 14 years of his young life. It drained Pastor Lee of his money, his resources, his support system. He was utterly without. It was then he turned to God and found Him to be true. It began what became his life's work.
He took us to the rooftop of the building and we looked out over the city down below us. It felt like an oasis, a light shining on a hill whispering hope. It was hope extended by a man who knew what it felt like to live without it.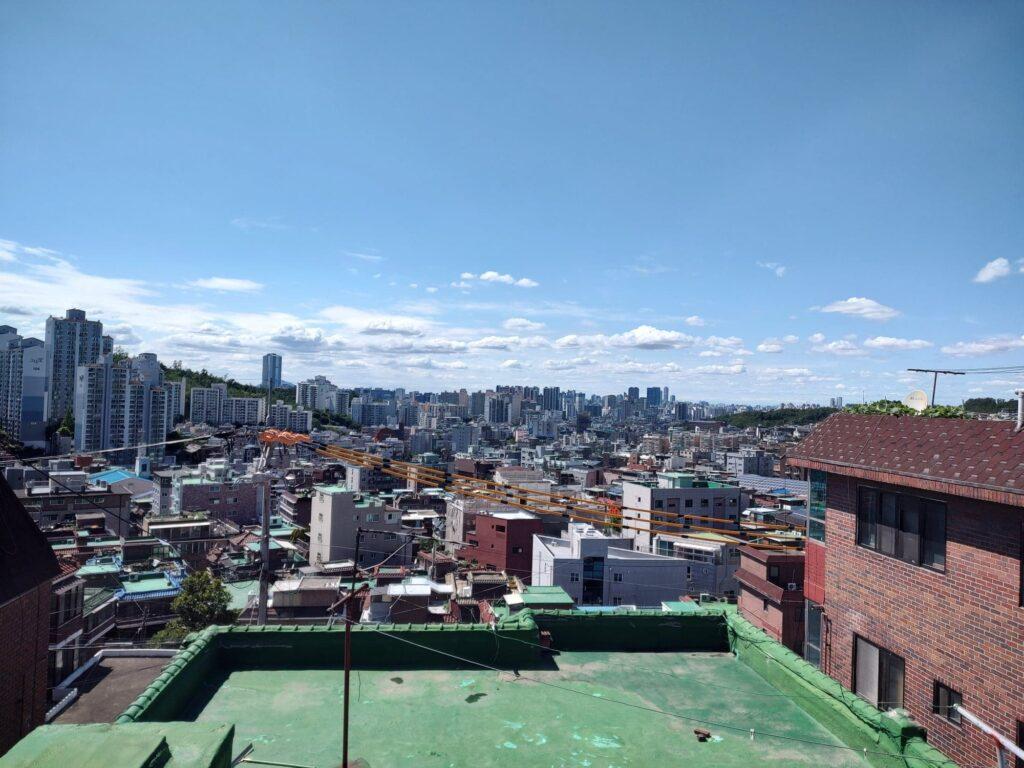 What do you want my friends to know, I asked? "Tell them the babies are not abandoned." He said that more than once. These women? They want their babies. But life has made it difficult, sometimes impossible for them. Bringing their babies to Babybox is an act of great love. Many of them decide to keep their babies after counseling and we support them with care packages for 3 years. Before the pandemic, people would come to volunteer, to help care for the babies, the mothers, and the handicapped children in their care. COVID has stopped that. He pointed to a small green sign. This is how we can help.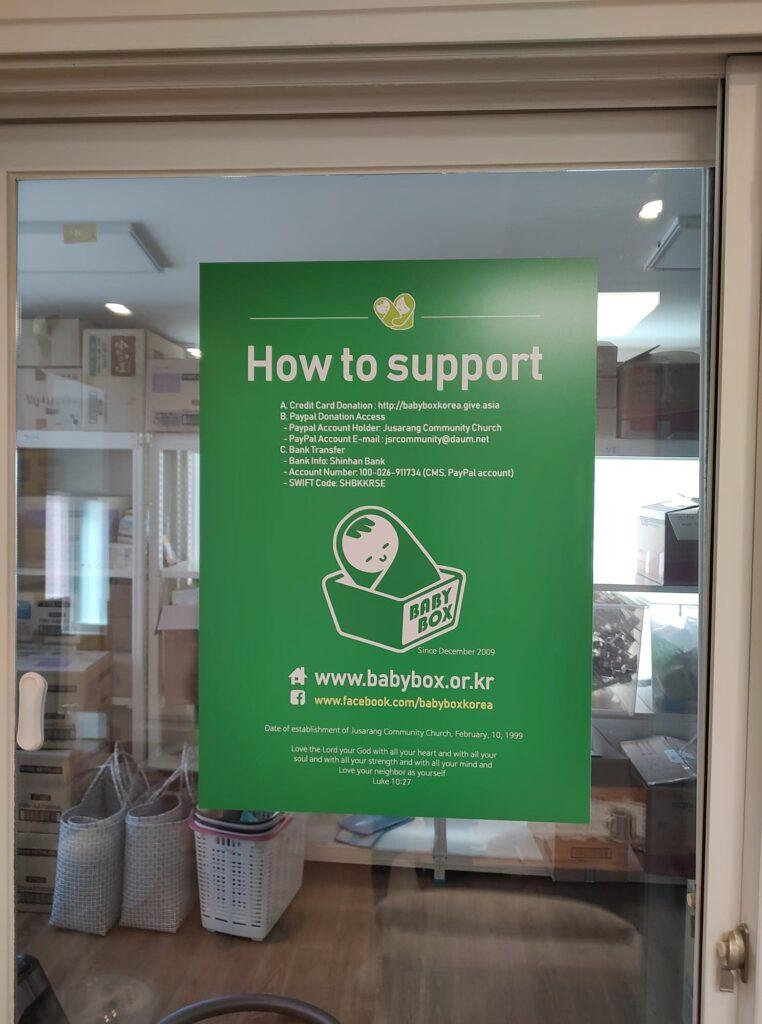 He wanted the girl and I to have a souvenir; pins in a heart shape, a common hand gesture in Korea to symbolize love…."mother and child", said Pastor Lee.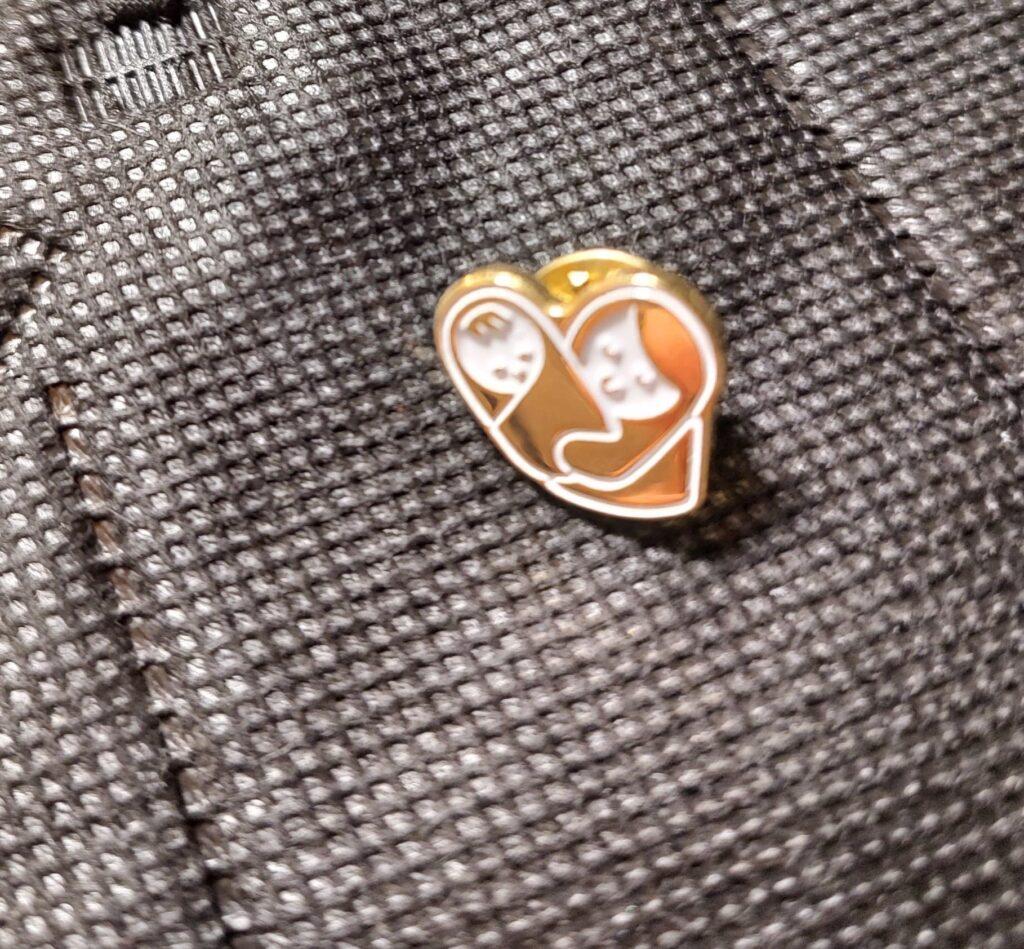 After two hours, it was time to leave. He wanted to see that we got back to the subway station safely and insisted on he and Jimmie driving us. As we pulled up to the curb he got out and reached for us and gave us a hug. "It is an honor to meet someone with such joy," he said and my tears caught in my throat. How could I not feel joy? Today we had been in the presence of an extraordinary hero.
"Please pray for us."
For God so loved the world that He gave his only Son, that whosoever believes in Him should not perish but have everlasting life." – John 3:16