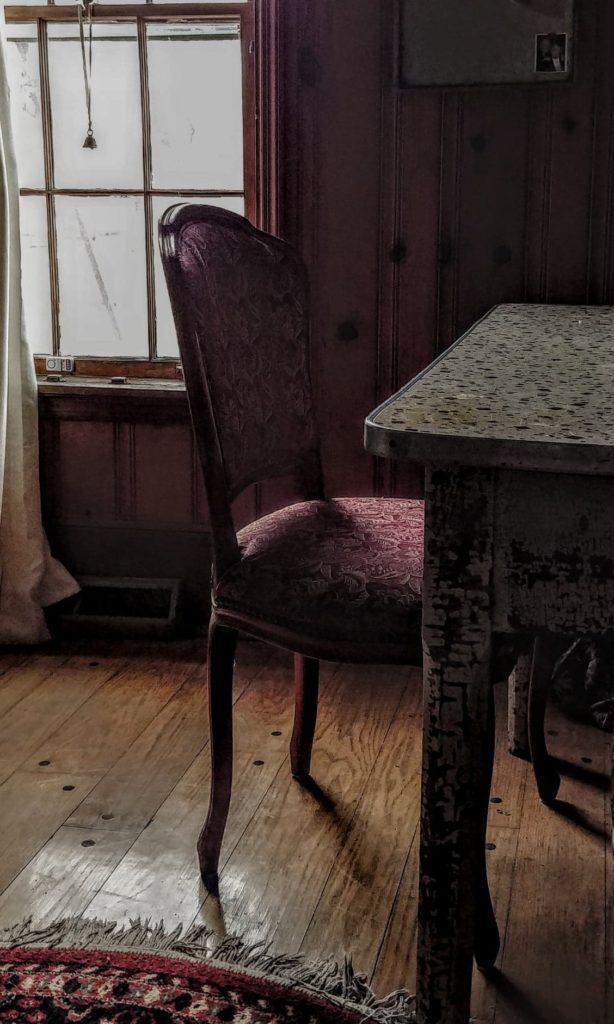 I sit across the room, music narrating the early morning mood. Rabbit Room 2018 is playing on Spotify and I perk up when Mr. Rogers' theme starts playing, sung by JJ Heller. I bought myself a small jar of pre-brew cinnamon coffee spice and a bag of Michigan cherry coffee beans yesterday and saved it till today to grind up a small cup of joy to sit with and savor. I smile to myself at how much gratitude I feel at buying myself such a small thing. It isn't lost on me, those small graces that are completely superfluous in this world of need versus want; that I can reach up and take it off the shelf and buy it. I start to think this morning of those who have no shelf to reach to. It stirs me up inside, as I look out the window, and think of the world on the other side of the glass.
The chair in my view catches my attention. I found it in a small antique store across the street from my house several years ago. It used to live in a downtown hotel in Cincinnati, the Vernon Manor, which has long since disappeared; the same hotel in which part of the motion picture Rainman was filmed. Somehow, this little chair wandered into a small shop in a small town in Kentucky and now sits here with me keeping quiet company, it's memories held silent. I want to interview it but I can't figure a way to get a chair to open up and speak.
Empty chairs make me wispy. I think of all it's eavesdropped on, through no fault of its' own; who has sat in it, who isn't sitting in it now, who will never sit in it again. It's remembering standing and looking me right in the heart. And it's longings still to be fulfilled, holding up a hand to pull me towards and past the window. I want to carry that chair with me so that, wherever I go, someone will have a place to sit and catch their breath from a life race they're running. To be able to sit and whisper the scary thing they're afraid to say out loud to the world in case the thing hears them and gets scarier. To show me pictures of the birthday party or the vacation of a lifetime or the child who graduated when they thought they'd never make it out of school. To laugh at the time they tripped and EVERYBODY saw it. To hold their heart in their hands because it's falling apart and feels like it's out of their body. To be a person who is seen and heard. To sit in a comfortable chair. Just for a minute, if that's all the time they can spare.
To wonder aloud with them….how the matter will turn out. And to watch and wait and keep company together to make the wondering less alone.
Ruth 3:10
"Sit still, my daughter, that you may learn how the matter turns out."