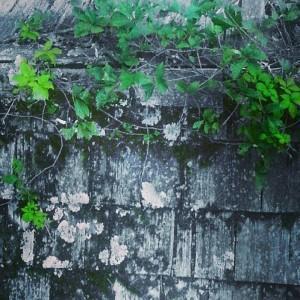 I love that the old leaves, the dead ones that are gone now in this picture, are imprinted onto where they used to be.  Their essence is still there.  The new leaves?  Look just like the outline of the old ones, except they're bright life giving green.  A memory and a promise on the canvas of an old barn side.  I took the photo and then stood for a moment looking and considering.  Because I don't much like rushing beauty or memory.
Recently, I stood in line at the grocery, in a hurry.  Paper or plastic, mam?  Do you have our shopper's card?  Is that credit or debit?  Paper.  Yes.  Credit.  And then…..would you like to donate to the American Heart Association?  I don't know anyone who has had heart trouble.  Not up close, anyway.  But I know a boy who hurts some days because his mama's heart stopped.  I can't ever remember actually donating anything at a grocery store cash register.  But this day I stopped my hurry and surprised myself.  "Yes.  I would."
So tonight, on a paper heart bought with a little extra money, the imprint of "Jan" is written out careful and hung up in the store with a wall of others.  I told her boy what I'd done.  Because the imprint of her is on him.  And I wanted him to know I stood quiet and thought of her, of him.  I wanted him to know it was okay to miss her, to take his time doing it, to not rush to replace or forget or escape.  That imprints mixed with new life can be Love showing Himself. ….the white, lacey reminder of life lived and how it decorates our lives even after it's gone.